The best USB-C hub docking stations in 2020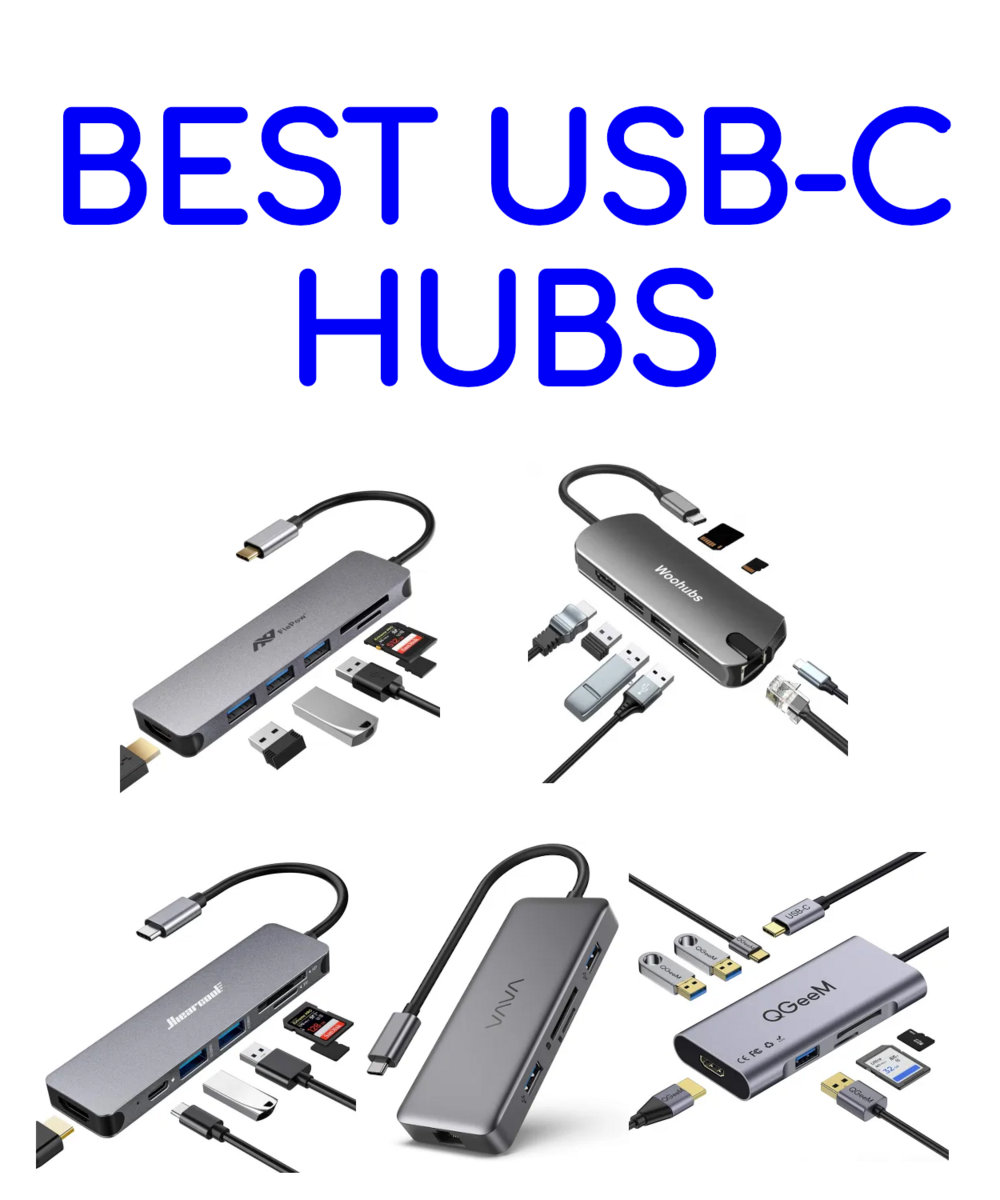 ---
With its versatility and its ability to deliver power to a myriad of devices, USB-C is making a big splash. It is ideally suited for creating a hub or docking device for a computer. This article attempts to navigate through the feedback of the best USB-C hub docking stations.
In looking for a USB-C hub there are several things that a user should look for:
Extra USB ports since the majority of USB devices are still of this type. This is especially true of USB keys. USB 3.1 allows the fastest transfer speeds.
USB-C port to replace the one occupied by the dock. This is especially important since more and more computers are moving to USB-C as their power source.
4K HDMI port so that an additional display can be attached.
SD card slot so that SD media can be connected and downloaded.
Compact, Light-weight, Sturdy (if intended for travel)
Network connection (if intended to be used as a desktop docking station).
One of these is sure to meet your needs. Chose wisely!
---
FlePow 7-in-1 USB-C hub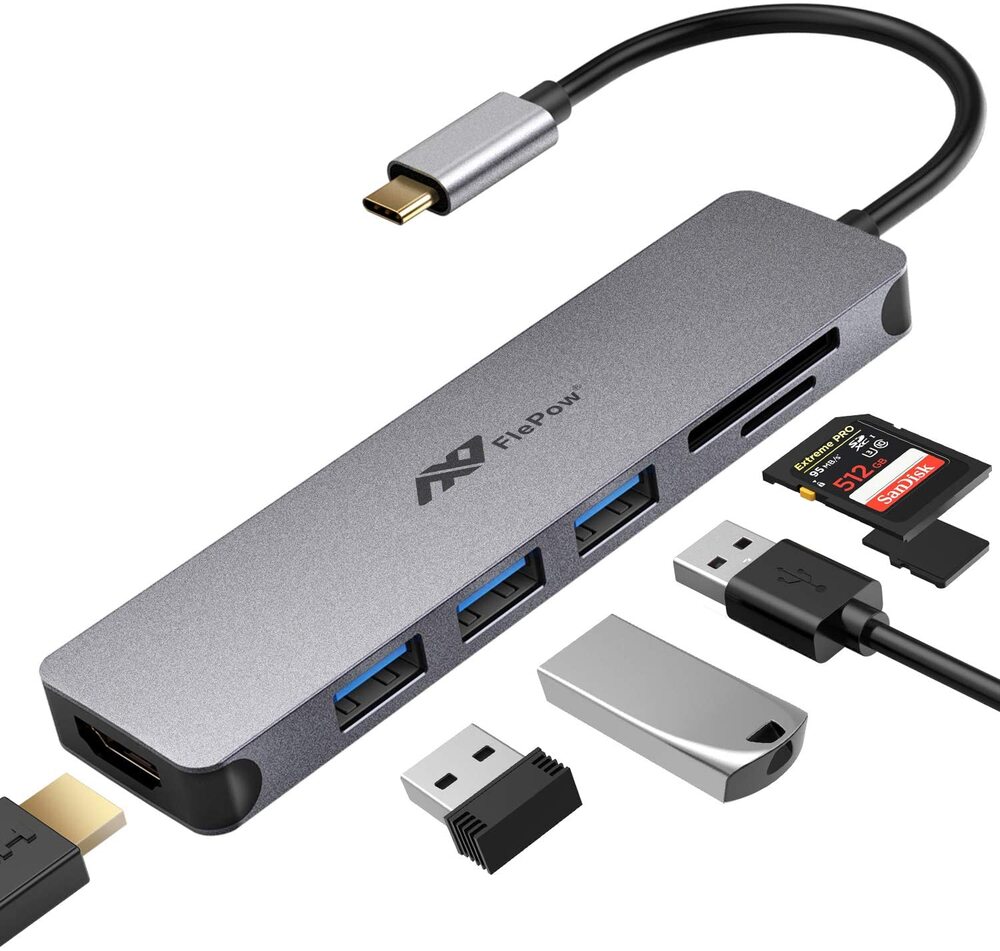 ---
This USB C Hub is a Multiport Adapter, 7 in 1, portable in aluminum, support of 4K, HDMI Output, 3 USB 3.0 Ports, SD/Micro SD Card Reader. Device compatible for MacBook Pro and XPS More Type C Devices.
---
QGeem 7-in-1 USB-C hub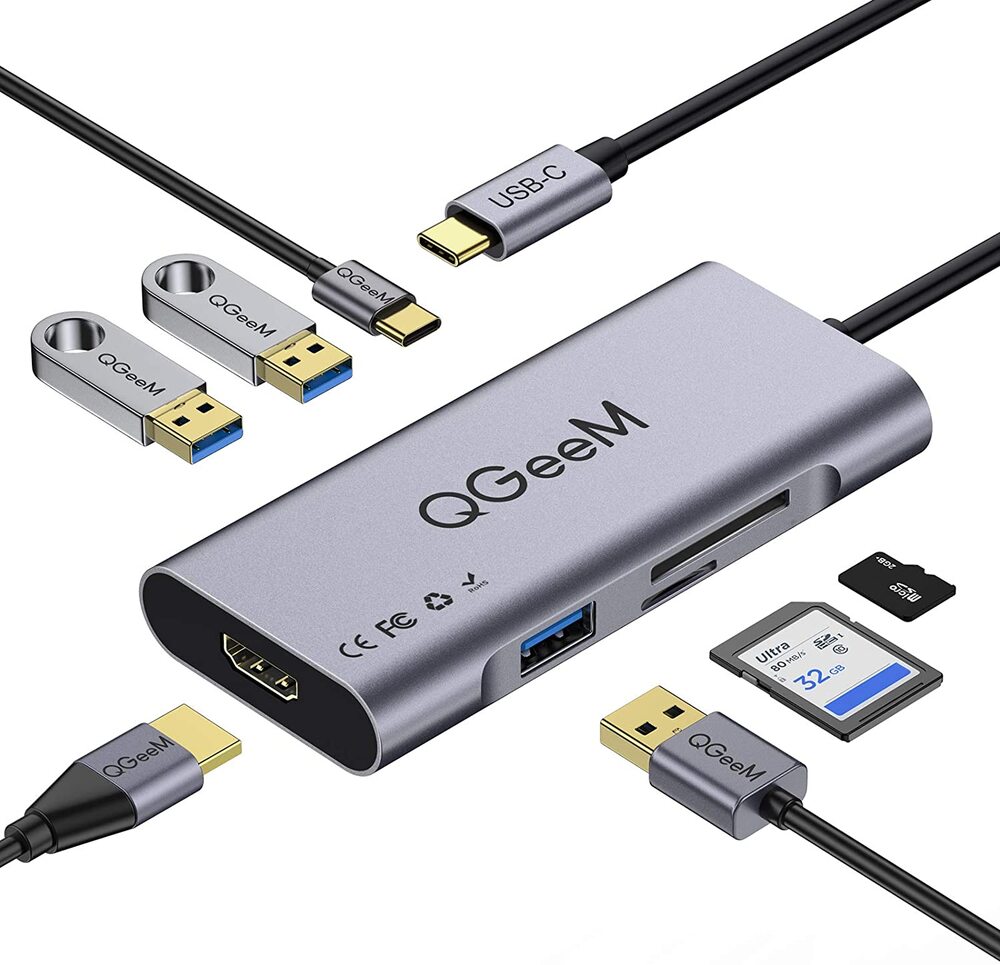 ---
The QGeem Dock got 4.6 stars out of 5 and sells for $27.99. Overall users seem very pleased with this dock. It has HDMI with 60Hz 4K video, 3 USB ports, SD Card Reader, and USB-C port for power delivery of up to 100W of power. There are, however, some reports of intermittent connection problems between the dock and the computer. Specifications: * USB-C Hub * HDMI 4k Adapter * 3 USB 3.0 Ports * USB C Adapter * 100W Power Delivery * SD/TF Card Readers * Compatible with MacBook Pro 13/15(Thunderbolt 3),2018 MacBook Air, Chromebook
---
Hiearcool 7-in-1 USB-C hub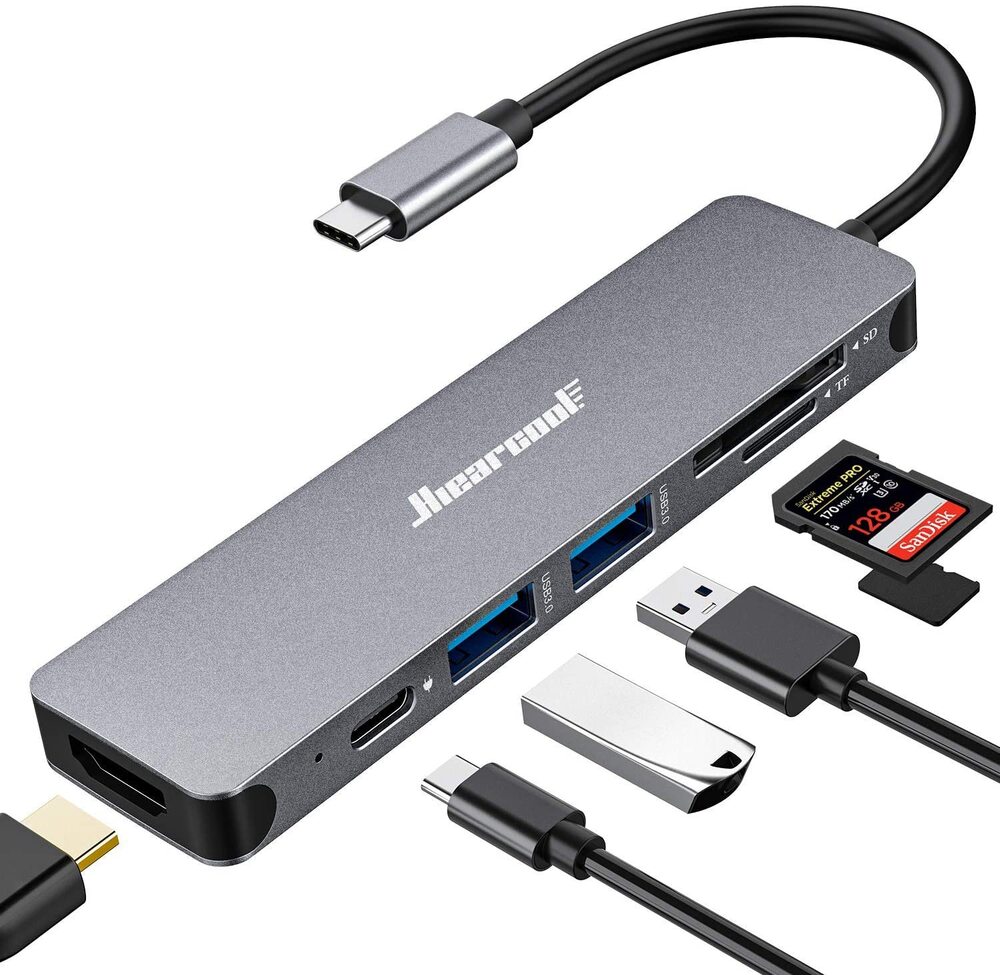 ---
Getting 4.8 stars out of 5, the Hiearcool Dock lists for $25.99. Users are more often than not very pleased with this product. It is sleek and light yet sturdy and handles all the connections they need. It has 4K HDMI, USB ports, SD card ports, and a USB-C power deliver port. However, there are a few users complaining about USB ports losing connection from time to time.
---
Vava 8-in-1 USB-C hub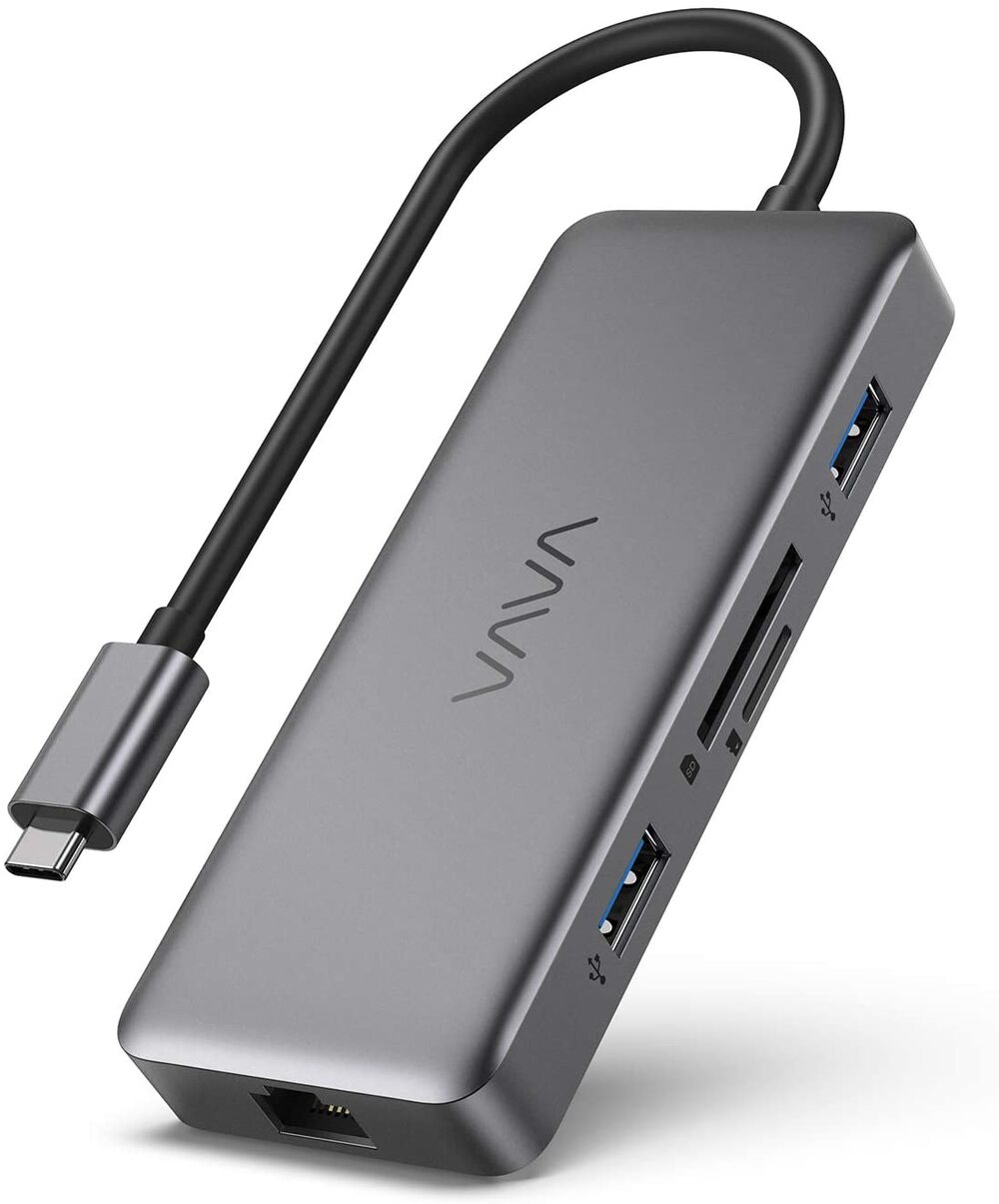 ---
Getting 4.8 out of 5 stars and selling for $39.99 this dock is the first one to have an RJ45 gigabit network connection along with all of the others ports. Users like this very much and the added port does not add bulk as they still report it to be very portable and easy carry. Although, there were a few reviews complaining about subpar network speeds.
---
Woohubs 8-in-1 USB-C hub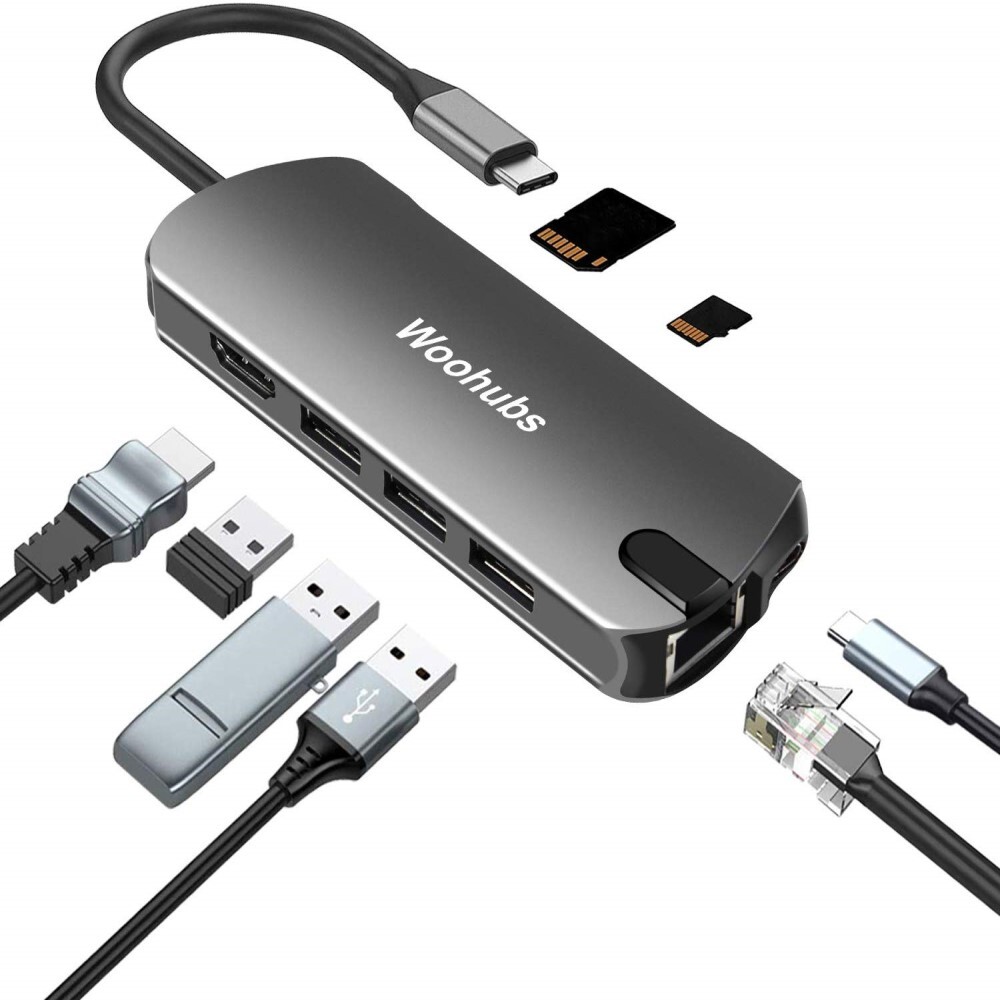 ---
Coming in with 4.5 out of 5 stars and listing for $24.99 this dock also has a gigabit network connection. Users like having this and all of the other ports listed above in a slim and portable size. The few complaints that are logged have to do with intermittent connections and slow data speeds.
---