Pyle sound device level meter PSPL01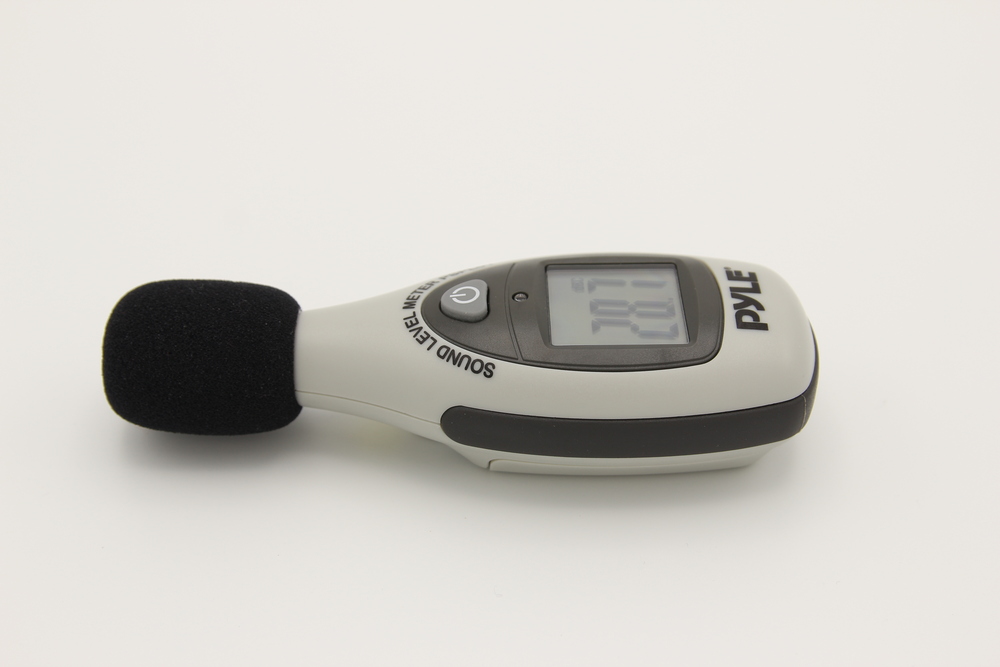 ---
UPDATE: we advise you to order the new sound meter: Pyle PSPL03
This sound device level meter measures from 40 to 130 dB with an accuracy of 3.5 dB. It uses a 0.5" electret condenser microphone for accurate sound measuring. The digital display offers 0.1 dB sound resolution with fast time weighting. Uses A-type frequency weighting. Powers off automatically after 15 minutes of inactivity. Includes microphone wind screen and a 9 V battery for up to 50 hours of battery life.
Environment conditions
Altitude up to 2000 meters
Relatively humidity 90% max
Operation Ambient 0~4°C
Description
This Sound Level Meter has been designed to meet the measurement requirements of safety Engineers, Health, Industrial safety offices and sound quality control in various environments.
Ranges from 40dB to 130dB at frequencies between 31.5Hz and 4 KHz.
Display with 0.1dB steps on a 4-digits LCD.
With one equivalent weighted sound pressure level C.
Specifications
Frequency range : 31.5Hz~4 KHz
Measuring level range : 40~130dB
Frequency weighting : C
Microphone : 1⁄2 inch electret condenser microphone
Display : LCD
Digital display : 4 digits
Resolution: 0.1dB
Display Up data: 0.5 sec.
Time weighting : FAST(125mS)
Accuracy : + 3.5dB @1kHz, 94dB(under reference conditions)
Alarm function : "OVER" is show when input is out of range(>130dB)
Auto power off : Meter automatically shuts down after approx. 15 minutes of inactivity.
Power supply : One 9V battery, 006P or IEC 6F22 or NEDA 1604.
Operation temperature : 0 to 40°C (32 to 104oF)
Operation humidity : 10 to 90%RH
Storage temperature : -10 to 60°C (14 to 140 oF)
Storage humidity : 10 to 75%RH
Dimensions : 210(L)X55(W)X32(H)mm
Weight : 135g (including battery)
9V battery, carrying case,
Name and functions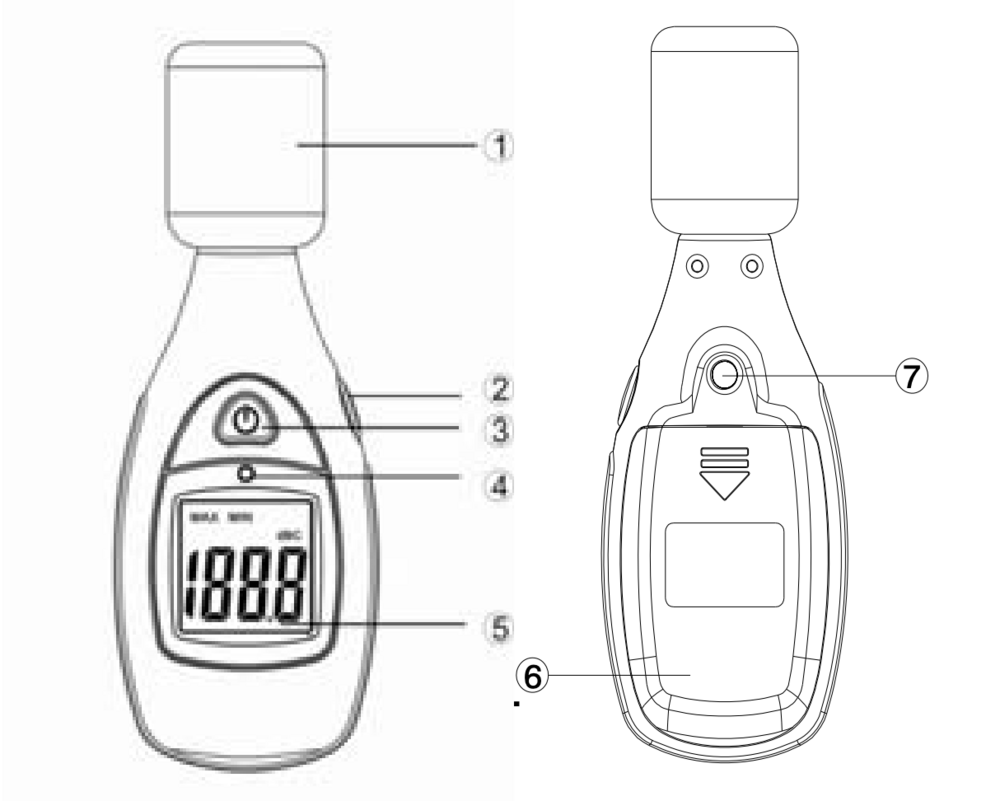 ① Windscreen & 1⁄2 inch Electret Condenser microphone. If you operate at wind speed over 10m/sec, please put protective accessories on microphone.
② MAX/MIN button MAX The max. Hold position is used to measure the maximum level of sounds. The maximum measured level is up dated continuously. Press once again the button, will release the hold and allow a further measurement.
③ Power ON/OFF button Turn the meter power ON/OFF
④ Backlight Sensor Automatic Turn the meter Backlight ON/OFF
⑤ Digital LCD display 4 digits, Resolution: 0.1dB, Display Up data: 0.5 sec . ⑥ Battery Cover Open the battery cover to replacing new one 9V battery.
⑦ Tripod nut Hold the instrument comfortably in fix on tripod
Measurement preparation
Battery loading: remove the battery cover on the back and put in one 9V Battery.
Battery Replacement: when the battery voltage drops below the operating voltage, mark "BAT" appears. If it appears, battery should be replaced with new one.
Operating precautions
Wind blowing across the microphone would bring additional extraneous noise. Once using the instrument in the presence of wind, it is a must to mount the windscreen to not pick up undesirable signals.
Do not store or operate the instrument at high temperature and high humidity environment.
Keep microphone dry and avoid severe vibration.
Measurement
Open battery cover and install a 9-volt battery in the battery compartment. Turn on power.
Hold the instrument comfortably in hand or fix on tripod and point the microphone at the suspected noise source, the sound pressure level will be displayed.
When MAX/MIN (maximum/minimum hold) mode is chosen. The instrument captures and holds the maximum or minimum noise level for a long period using any of the time weightings and ranges.
Turn OFF the instrument and remove and remove battery when not in use
---